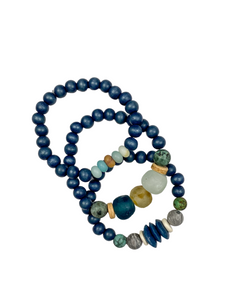 Trio Stack Bracelet Set :: Yellowstone
The Twine & Twig Yellowstone collection is inspired by the earthy colors and unique textures found all over Yellowstone National Park. Breathtaking canyons, fascinating geysers, alpine rivers and hot springs all tucked away in a tranquil forest were the design focus for this Fall 2020 Collection. The way the blues, greens, grays and tans swirl together creates a mesmerizing color combination that has both pops of color combined with neutral tones. These pieces are the perfect way to accessorize this Fall.
The Twine and Twig Stacks are designed using globally sourced beads. Stacks come as a set of 3 stretch bracelets.
Made with Indigo Filipino Beads. 
Fits Wrist Size 7".
---