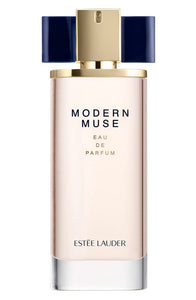 Modern Muse Eau de Parfum Spray
What it is
: A fragrance that captures your style, your confidence and your creative spirit with its alluring contrast of sparkling florals and sleek, sensual woods.
Fragrance story: Two distinctively different accords—sparkling jasmine accord and sleek woods accord—provide an intriguing dual impression for this fragrance. It's a true innovation in fragrance design, as complex and as fascinating as the woman who inspires it. Modern Muse was inspired by the complexity of a modern woman, with the same dynamic contrasts as her life and personality, capturing her creative energy and magnetic femininity with multifaceted, sparkling floralcy and her sleek style, strength and sensuality with sleek woods.
Style: Lush, floral, woody.
Notes: exotic mandarin, honeysuckle nectar, dewy petals, jasmine sambac, China absolute, tuberose fleur firnat, fresh lily, patchouli coeur, patchouli crist, amber wood, soft musk, Madagascar vanilla.
Mood: Confident, independent, inspiring.
---