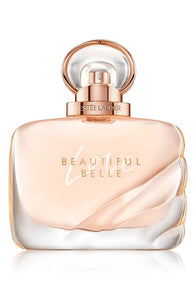 Beautiful Belle Love Eau de Parfum Spray
What it is: An oriental gourmand fragrance with Turkish rose and vanilla and notes of luminous amber and orange blossom honey.
Fragrance story: Love breaks all the rules. Beautiful Belle Love celebrates the universal emotion of modern love and modern brides everywhere who dare to break all the rules. Every note in this scent embodies a voyage of the senses and transports the imagination. It's a luxurious departure in fragrance, inspired by the union of specially crafted ingredients sourced from the four corners of the globe. From the north, feel the excitement and anticipation of love with French sage and Turkish rose. From the east, live in the heartfelt passion of love with luminous amber and Middle Eastern almond notes. From the south, let a tale of seduction and love unfold with the marriage of patchouli and Madgascar vanilla. From the west, celebrate the discovery and journey of love with notes of illumina musk and orange blossom honey.
Style: Oriental gourmand.
---