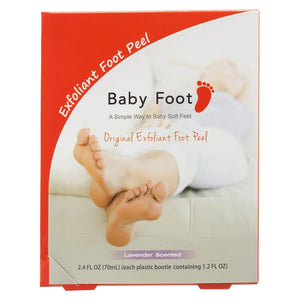 Baby Foot Exfoliation Foot Peel
Baby Foot Exfoliation Foot Peel, known as the "Original Foot Peel Since 1997," is an innovative treatment that includes a variety of extracts, along with glycolic and lactic acids, that help remove unwanted dry skin from your feet.
Baby Foot is effortless; the pre-filled booties are convenient and easy to use. The combined ingredients help to hydrate and moisturize throughout the process.
How do I use it: To enhance the effects, Baby Foot recommends soaking your feet prior to the treatment.
After cleansing your feet, put the booties on both feet and secure around each ankle using the enclosed pieces of adhesive tape. Baby Foot recommends placing a pair of socks over the plastic booties and remaining seated.
Wear the plastic booties for approximately one hour to allow product to absorb. After completed treatment, remove booties and wash your feet with soap and water. The dry, dead skin will begin to peel from five to seven days after the initial application. It could continue to peel for up to two weeks, depending on the amount of dead skin on the feet, leaving your feet soft and smooth, just like a baby's foot.
---