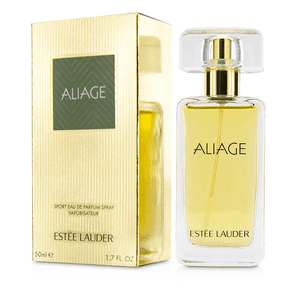 Aliage Sport Eau de Parfum Spray
The very first "sports fragrance."
Fresh, green notes and cool citrus. Exuberant, engaging and brimming with energy, it celebrates a new femininity.
Top Notes:
Fresh Greens, Jasmine, Citrus
Middle Notes:
Nutmeg, Rose, Armoise
Base Notes:
Oakmoss, Vetiver, Cedarwood
THE INSPIRATION
Introduced in 1972, Aliage was an idea ahead of its time. Mrs. Estée Lauder created it as the very first "sports fragrance" because she felt that the active woman needed a scent all her own. She designed it for the contemporary woman who likes casual clothes, leads an active life and moves around the world as if it were her home.
Aliage celebrates the new femininity which emerged in the early '70s. At that time, perfume advertising was about ballgowns and glamour, not bicycles and fishing boots. Women were surprised and thrilled by this fresh, cool fragrance and its exuberant, energetic feeling. It was a revolutionary concept at the time, and an idea that's still relevant today.
---